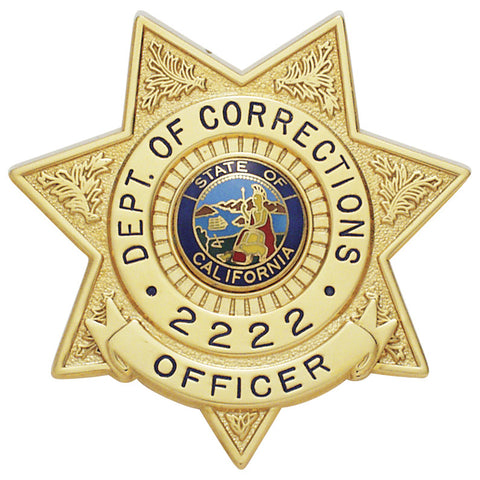 S243B - Custom Engraved Badge
This badge is custom engraved; the text shown is for example only. The center disk, finish, attachment and curve of the badge must also be selected.

Line 1: * DEPT. OF CORRECTIONS *
Line 2: 2222
Line 3: OFFICER

Please note: Custom engraved badges take approximately 4-6 weeks for delivery.

Item Features:
Dimensions (w x h): 2.56" X 2.56"
We have a responsibility to only sell Law Enforcement badges to authorized individuals and organizations. We take that responsibility very seriously and require identification before we can process certain orders. Please review the information below.
All IDs and/or Letters can be faxed to (954) 571-2101 or scanned and emailed to us at customerquestions@maxsell.com
Notice to all badge collectors:
Our badges are sold strictly for collecting, display, and theatrical purposes. They are superbly made, custom die badges.
Federal Law (HR 4827, Law #106-547), pertaining to badge possession, collecting, and use went into effect on 12/19/2000. This law makes the shipping, possession and use of Police badges and Police badge replicas a crime if they are used for any purpose other than the following:
1. as a memento, or in a collection
2. for decorative purposes;
3. for a dramatic presentation;
4. or for any other recreational purpose.
Collectors agree to adhere to the law stated above. Any order placed for law enforcement badges for collecting purposes must be accompanied by a copy of your driver's license. Please fax the copy to (954) 571-2101 or email it to customerquestions@maxsell.com. Law enforcement stock badges may be purchased for collecting. Custom engraved law enforcement badges may only be sold to law enforcement officers.
---