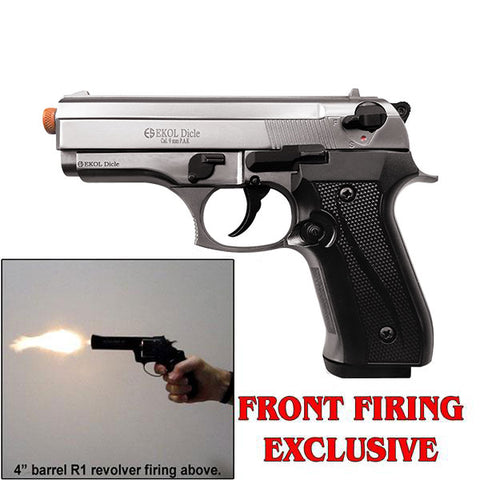 Blank Firing Gun EKOL DICLE Fume - Front Fire 9mm
Blank Firing Gun EKOL Dicle Fume- 9mm Front Fire 
This EKOL DICLE blank machine gun can fire loud 9mm PAK blanks as fast as you could pull the trigger in semi auto mode, up to 15 rounds.

Discover the EKOL Blank Firing Gun Experience! Unveiling our top-tier blank guns, these meticulously designed blank firing guns are the epitome of realism and performance. Powered by 9mm blank ammo, they're perfect for K9 training, captivating reenactments, action movie scenes, and track and field races. Don't just imagine the thrill feel it with our unmatched replica guns collection!

Two Modes of Operation
* Semi-Auto
* Safety
Item Features
Capacity: 15 Shots
Weight: 2.47 lb.
Height: 6.77"
Length: 7.28"
Finish: Fume
Caliber: 9mmPA
Includes: Simulator, 15 Round Magazine, Hard-shell case.
Construction: durable metal alloy with polymer parts.
You must be 18 or over to order, and sign for your package. This blank gun cannot be converted to fire live ammo. It complies with ATF regulations and has been approved by them for sale in the United States. No federal license required for these simulators (gas alarms).
---