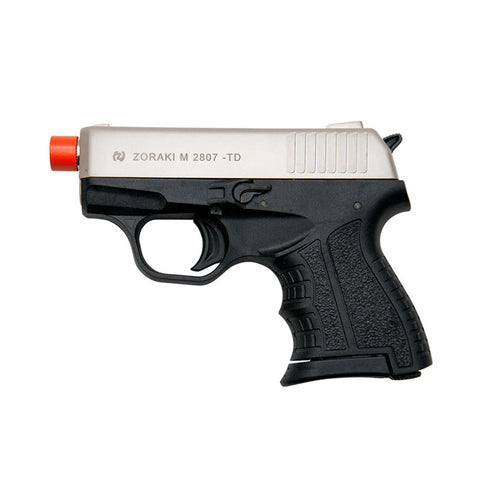 Zoraki 2807 Blank Firing Gun Satin - 8mm Front Fire Blank Gun
Zoraki 2807 Blank Firing Gun 8mm Front Fire
This Zoraki 2807 blank pistol can fire loud 8mm PAK blanks as fast as you could pull the trigger in semi auto mode, up to 7 rounds per second. Perfect for K9 training, captivating reenactments, action movie scenes, and track and field races.
Features:
Semi Automatic Single Action
Mechanism lock by hardened steel side button when out of cartridge
Magazine release button at the bottom
Hardened steel reinforced cock
Hardened steel shell launcher and puller extractor
Steel-reinforced zinc alloy mechanism (slide)
Polymer frame
Specifications:
Magazine Capacity: 7 + 1
Weight: 1 lbs
Overall Length: 4.72 Inches
Barrel Length: 2.36 Inches
Height: 3.66 Inches
Width: 0.86 Inches
Finish: Satin
Caliber: 8mm
Includes: 7 Round Magazine, Cleaning Rod and hard-shell case.
Weighs: 0.75 LBS
You must be 18 or over to order, and sign for your package. This blank gun cannot be converted to fire live ammo. It complies with ATF regulations and has been approved by them for sale in the United States. No federal license required for these simulators (gas alarms).

---