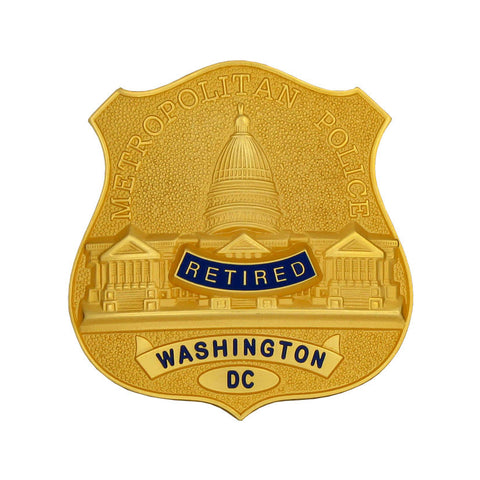 Retired Washington DC Metropolitan Gold Police Badge
These badges have been precisely replicated down to the last detail. Finely engraved like the agency issue, they make a unique display for office, home or den. A badge collectors dream since full size originals are often hard to find or illegal to own. For the agent who has everything, it makes a treasured gift and heirloom for generations to come.
Item Features:
Width: 2 1/8"
Height: 2 1/4"
Police Quality
Attachment : Safety Pin
Lettering: Engraved Black
Material: Metal (Solid Back Badge not Hollow)

Our badges are sold strictly for collecting, display, and theatrical purposes. They are superbly made, custom die badges.
*Requires credentials.
Please note: This badge is to be used for visual identification only and conveys no authority.

Notice to all badge collectors:
A new Federal Law (HR 4827, Law #106-547), pertaining to badge possession, collecting, and use went into effect on 12/19/2000. This law makes the shipping, possession and use of Police badges and Police badge replicas a crime if they are used for any purpose other than the following:
1. as a memento, or in a collection
2. for decorative purposes;
3. for a dramatic presentation;
4. or for any other recreational purpose.
---