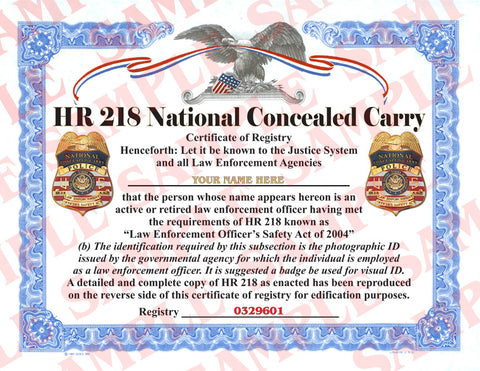 HR218 National Concealed Carry Certificate
HR218 National Concealed Carry Certificate
The HR218 National Concealed Carry Certificate is a great document to have framed. The perfect item for the home or office. Send a message to anyone who sees it.
*Requires Law Enforcement Identification
Measures: 8.5" x 11"

Please Note: The certificate does not have the word sample printed on it in any place.

H.R. 218 Law
July 22, 2004, President Bush signed H.R. 218 into law, Allowing qualified off-duty and retired law enforcement officers to carry concealed firearms in all 50 states.

Under this new law, off-duty and retired officers will be carrying their firearms in effect, as civilians, they won't be out patrolling and making arrests. These folks will use their firearms to defend themselves and others from violent attacks, exactly the same way that armed civilians employ their concealed guns in all the states that allow honest, law-abiding civilians to carry concealed.

Law enforcement officials have advised the following. You need to identify yourself by BADGE and by WORD. When identifying yourself, use the loudest voice possible so witnesses will hear you and be able to corroborate your account of the incident later.
---