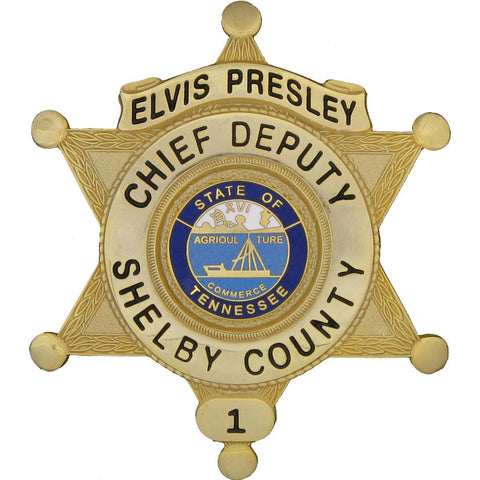 Elvis Presley - Collector Badge Gold Finish
Elvis was made an honorary officer in departments across the United States. This police quality badge is a replica of the one presented to him by the Shelby County Sheriff's Department; making Elvis an Honorary Chief Deputy. This law enforcement quality Badge measures 2 3/8" x 2 3/4". Features a safety pin on the back of the badge.

Item Features:
Width: 2 3/8"
Height: 2 3/4"
Attachment : Safety Pin
Lettering: Engraved Black
Material: Metal (Solid Back Badge not Hollow)

Notice to all badge collectors:
A new Federal Law (HR 4827, Law #106-547), pertaining to badge possession, collecting, and use went into effect on 12/19/2000. This law makes the shipping, possession and use of Police badges and Police badge replicas a crime if they are used for any purpose other than the following:

As a memento, or in a collection.
For decorative purposes.
For a dramatic presentation.
Or for any other recreational purpose.
You must be over 18 to order.
---